DARK SIDE CHOCOLATES
BRAND UPDATE
Dark Side Chocolates is a boutique chocolaterie & cafe located downtown Cumberland with the goal to bring you the joy of authentic flavour by using the best organic ingredients and fair trade chocolate, and to create something delightful for you to enjoy using a little love & magic.
—
The owner inherited the logo/branding when they took over the company and it just never felt like her own. We worked with her to create a new look/feel that really reflects her personality and what's she's been doing in this amazing little chocolate shop over the past decade+.
We created a 100% custom font and wordmark and a new moon icon, both with lots of intricate astrological and magical feeling details. Then developed a variety of variations to all keep the same look and feel but be able to to be applied in any branding situation from website and socials to packaging and signage.
Graphic Design
Illustration
Branding
Display & Signage
Merch & Apparel
Packaging
Typography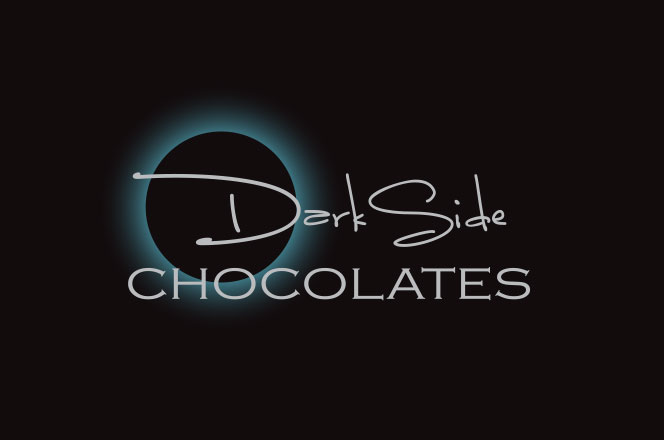 PREVIOUS LOGO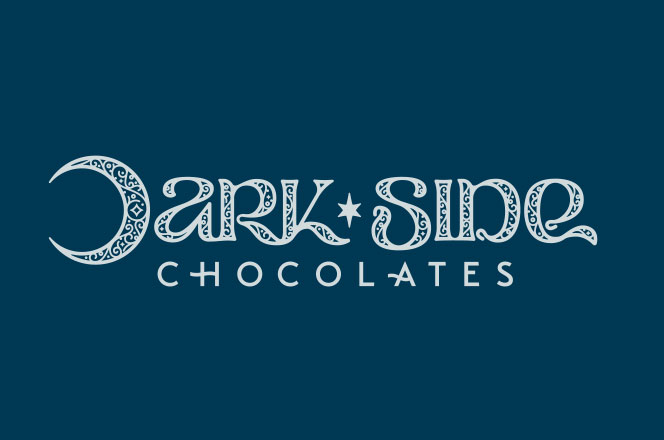 UPDATED LOGO
"Working with Ian from ROAM Media for my rebrand was a treat! His big picture thinking and creative insight helped give cohesive vision, and breathe of new life into my scattered inspirations. The process was smooth working with such an innovative professional who offered me fresh solutions and impressive attention to detail. I'm over the moon with how it all turned out!"
ALLISON MACKENZIE, OWNER, DARKSIDE CHOCOLATES
PACKAGING
As part of the rebrand we developed a new look for the supporting graphics that mimicked the details within the logo itself, and used the primary colour palette for their true boxes and bands. We wanted to make sure all their other packaging stood out from one another by creating a supporting colour palette for all the individual items based on the ingredients and flavours, which included icons for each worked into the background pattern.

BAR WRAPS & ICONS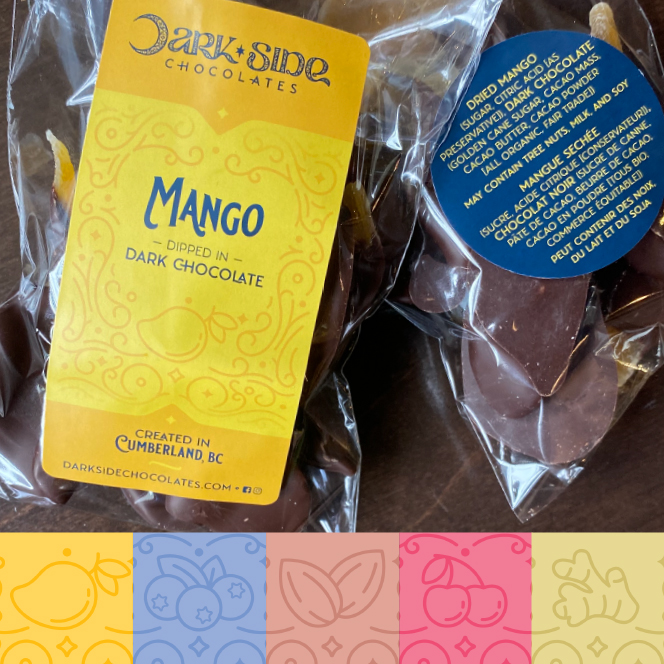 LABELS & ICONS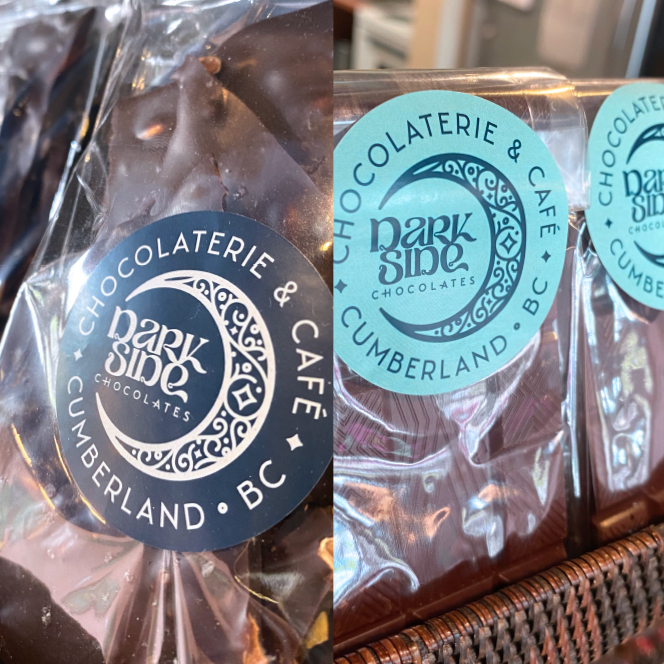 STICKERS
SIGNAGE
No brick & mortar location is complete without proper signage. We designed a unique hanging sign to grab attention of both locals and tourist alike. Combined with clear & legible signage on the door/windows with typographical details to attract the eye to draw people inside. We also created number of little details for inside to add a bit of design beauty to the normally mundane.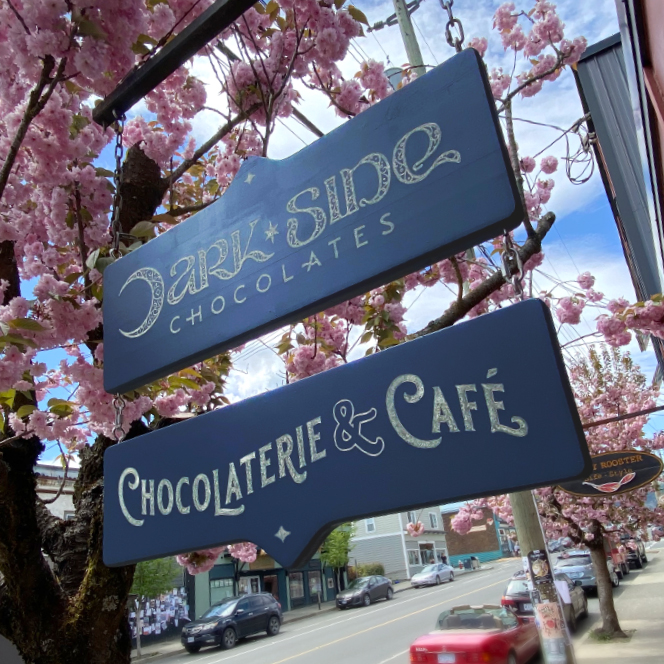 HANGING SIGN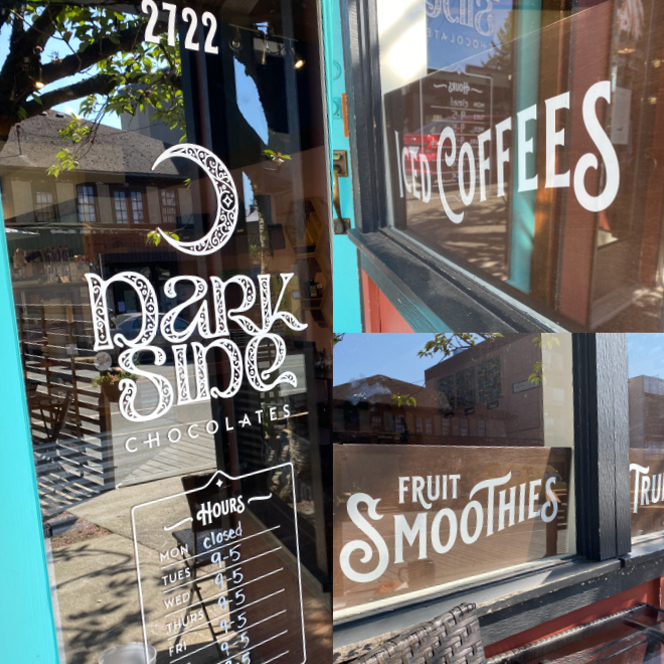 EXTERIOR SIGNAGE
---
MERCH CONCEPTS
As part of the presentation for the overall brand we also created some ideas for potential merchandise.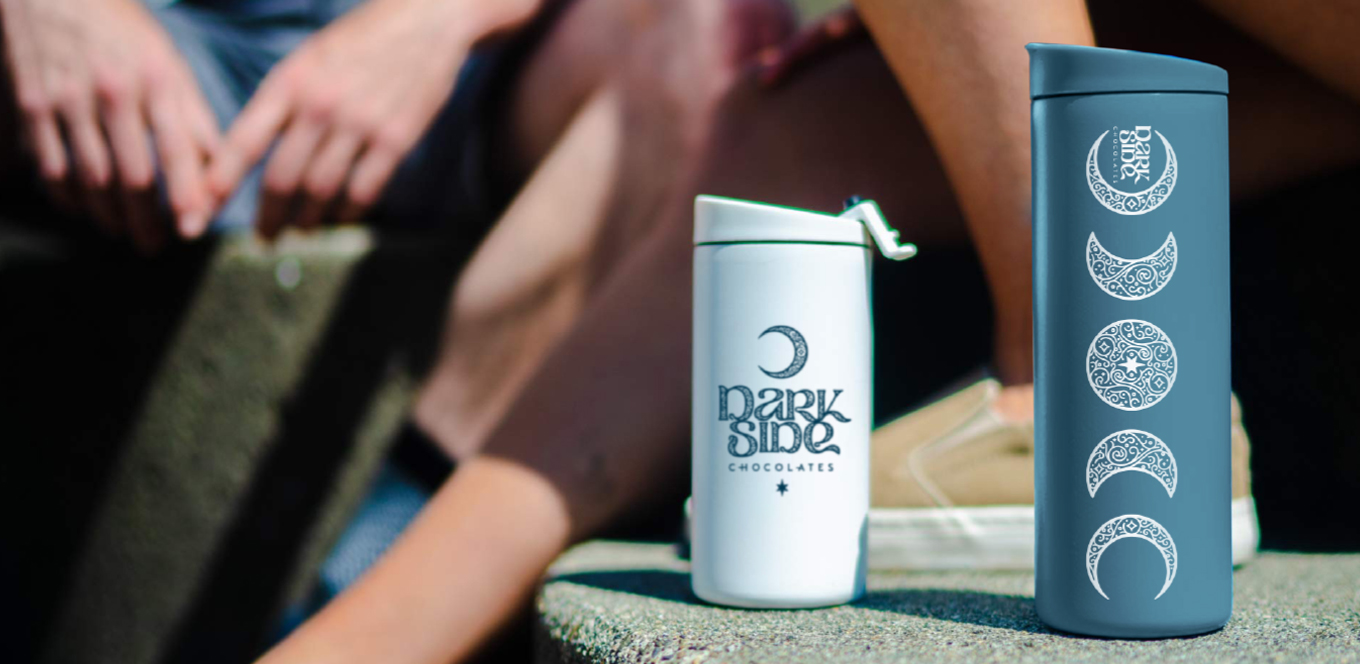 Learn more at Dark Side Chocolates, stop in next time your exploring Cumberland, or check them out on instagram or facebook.